The CODER living lab is a member of the European Network of Living Labs (ENoLL). Please visit ENoLL to find out more.
CODER is a user-driven research, co-design and innovation process
The CODER lab addresses the human factors and experiences in the entire software and systems engineering and innovation process. The lab is an open user-centric incubator that aims to involve the current and future users of software and systems, developers, designers and engineers as well as all other stakeholders that have an interest in the software and system being developed or used. It can be policy makers, legislators, citizens, and business managers.
The following figure portrays the human-centric methodology underlying our lab to engaging effectively all stakeholders at the early stage of the development phase. The methodology creates a trusted environment where small as well as large business stakeholders can meet and co-create and test out innovative software products, services, and systems including the required related business models.
Our methodology, called 5on5, distinguishes five stages. It integrates a very set of design and user research methods such as persona, affinity diagramming and some tools we developed including UXModeler and P2P Mapper:
1. Empathize consists of developing a deep understanding of the users and stakeholders experiences and needs as well as defining the strategies to get them engaged in the sub-sequent stages
2. Define where a wide analysis of the user's needs and experiences is conducted. This stage includes gathering information about the problems to be solved and modeling the activities and workflow the products, systems and services is or will support
3. Ideate investigates the origin of problems and generates ideas and possible solutions. Solutions can be new services that need to be developed, existing services that to be enhanced or even new policy that need to be implemented. During this stage it is necessary to take into account the three forces: business, technology and people. Innovations occur exactly at the intersections of these forces
4. Prototype, a step where designers and users together build mockups, storyboards, wireframes that illustrates the design concepts
5. Test is the last stage of the iteration where the various prototypes are evaluated by users and all stakeholders and improvements to the solutions are then considered and implemented during the next iteration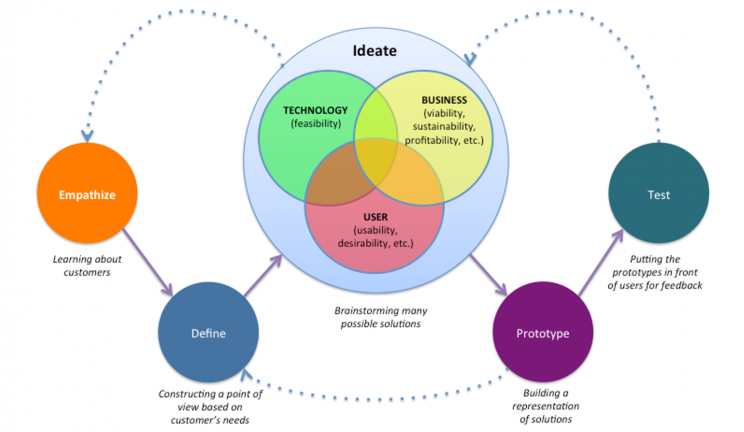 The lab provides a Cloud platform, accessible from everywhere, anywhere at any time for constructive technology assessment and for exploring societal and policy goals related to ICT and human-centric design and innovation in the work place.
Click here to view a video 'Living Labs: what do people really want?'